Keep reading to learn more about our mission, our story, and our wonderful team of landscaping professionals.
Our highest priority is enhancing the appearance and increasing property value by providing professional landscaping services.
Whether you are looking for a full-service landscaping company to enhance an existing landscape, or help you bring your vision to life by designing and constructing your dream landscape, make Agave LD your top choice. We are based in Georgetown, Texas, but we proudly serve all of Austin and its surrounding areas.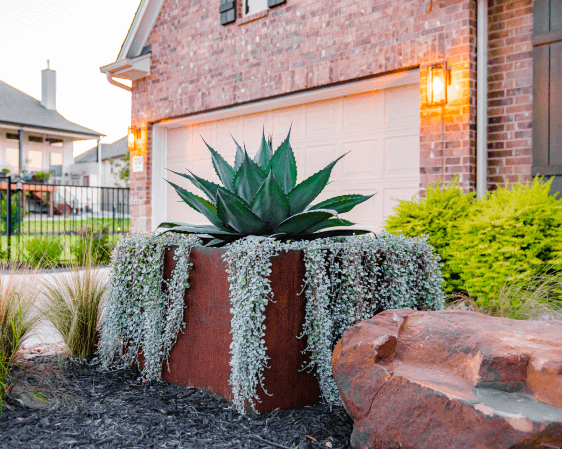 The Agave LD story starts in 1997, when Miguel Carranza founded the company previously known as Carranza Landscape Services. Miguel raised four children with his wife Patricia Carranza – they are all now part of the family-owned business. In 2014, the company was rebranded and expanded to what we now know as Agave LD.
Since the beginning, our goal has always been to create a team of people who are passionate and knowledgeable about helping our clients enhance their existing landscapes and to construct new landscapes designed by our own team. Our story began in Austin, TX and we plan to continue to grow in its surrounding areas.
Diana Duran
Director of Human Resources
Landscape Maintenance Division
Erik Carranza
Director of Operations
Eduardo Carranza
Landscape Enhancement Manager
Eden Carranza
Maintenance Manager
Fidel Franco
Maintenance Assistant
Alberto Gallardo
Turf Care Manager
Christian Garcia
Irrigation Manager
Mas Owen
Landscape Specialist
Amy Berry
Landscape Specialist
Landscape Design & Construction Division
Edwin Carranza
Director of Operations
Eduardo Garcia
Project Manager
Elysia Pendland
Project Coordinator
Sara Frost
Lead Landscape Designer
Idalia Vera
Landscape Designer
Santiago Garcia
Irrigation Construction Manager
Virginia Ugarte
Landscape Drafter
Request an Estimate Today
Now that you know more about our mission, our story, and have gotten to know the team of amazing people you'll be working with, get in touch with us to request an estimate!